When it comes to building a website, you'll need a lot of files and folders. And if you're working on a complex website, it can feel like the number of files and folders is never-ending. This can be especially overwhelming for developers and designers. You might find yourself forgetting where you moved a media file or realizing that a theme folder has gone missing or didn't transfer correctly to the server. But don't worry, there is a solution to help you stay organized and on top of things – FTP clients. These tools are essential for any developer or designer. They make it easier to manage your files, ensuring everything is in its proper place. So, if you want to keep your website development process smooth and hassle-free, make sure you have one of the best FTP clients by your side.
What is the purpose of an FTP client?
An FTP client, which stands for File Transfer Protocol, allows you to connect your local computer files to an online server. This is particularly useful when creating a website, such as a WordPress site. With an FTP client, you can build your website on your computer using tools like DevKinsta, and then transfer all the files to your server to launch your website for the world to see. Essentially, an FTP client gives you the ability to organize your files, make edits in a private environment, and also check for any potential issues.
FTP clients come in various forms, but the most important aspect to consider is finding one that is compatible with your Operating System. Additionally, you should seek a user-friendly interface that allows for easy navigation and organization of folders.
In present times, hosting companies often provide one-click options to install files on platforms like WordPress. However, even with such conveniences, an FTP client remains a valuable tool for both beginners and advanced developers, serving as a means for training and troubleshooting. It is also advisable to maintain a local copy of your website on your computer at all times.
Remember, when it comes to FTP clients, it's crucial to prioritize compatibility, usability, and having a backup of your website.
What should I look in a FTP client?
When searching for the best FTP clients, it's important to consider certain key features. These features can greatly enhance your experience and make file transfers through FTP much smoother. So, what should you look for in FTP clients? Here are some essential features to consider:
User-Friendly Interface: The best FTP clients offer a simple and intuitive interface that makes it easy to navigate and use. A well-designed interface ensures that even beginners can quickly understand and operate the software without any hassle.
Secure File Transfer: Security should be a top priority when it comes to file transfer. Look for FTP clients that support secure protocols like SFTP (SSH File Transfer Protocol) or FTPS (FTP over SSL) to protect your data from unauthorized access or interception.
Speed and Reliability: Efficiency is crucial in FTP clients. Choose ones that provide fast and reliable file transfer, ensuring that your uploads and downloads are completed within a reasonable time frame without any interruptions or errors.
File Synchronization: File synchronization capabilities simplify the process of keeping files up to date across multiple platforms or devices. Look for FTP clients that offer automatic syncing options, making it easier to manage and update your files across different locations.
Resume and Pause: In case of interruptions during file transfers, a resume or pause feature is extremely handy. Good FTP clients allow you to pause ongoing transfers and resume them later without starting from scratch.
Remote File Editing: Some FTP clients offer the convenience of editing files directly from the server without having to download them first. This feature can save time and effort, especially when you need to make quick edits to files stored remotely.
Concurrent Connections: If you frequently work with multiple servers or need to transfer multiple files simultaneously, look for FTP clients that support multiple concurrent connections. This will streamline your workflow and boost productivity.
Compatibility: Ensure that the FTP client you choose is compatible with your operating system. Whether you are using Windows, macOS, or Linux, find a client that works seamlessly with your preferred platform.
By considering these essential features, you will be able to find the best FTP client that meets your specific needs and provides a smooth and efficient file transfer experience.
FTP clients are quite similar in some respects, but occasionally you come upon a small feature in one of them that makes it much more helpful for you.
Get detailed reviews of the top FTP clients available. While some have similar features and interfaces, others stand out with their unique offerings. Start by checking if the FTP clients are compatible with your Operating System, and then dive into our comprehensive reviews below. Happy exploring!
1. FileZilla (Windows, Mac, and Linux)
One of the most well-liked FTP clients available is FileZilla. Not only is FileZilla free and easily accessible, but it also doesn't take much time to grasp how the whole system works. Despite having a slightly outdated interface, FileZilla allows users to effortlessly link their site files and organize them alongside the files stored on their computers.
While the majority of FileZilla users own Windows machines, this software is also compatible with all Operating Systems, including older versions like Windows 7. So, whether you're using Windows, Mac, or Linux, FileZilla is there to assist you in efficiently managing your FTP connections.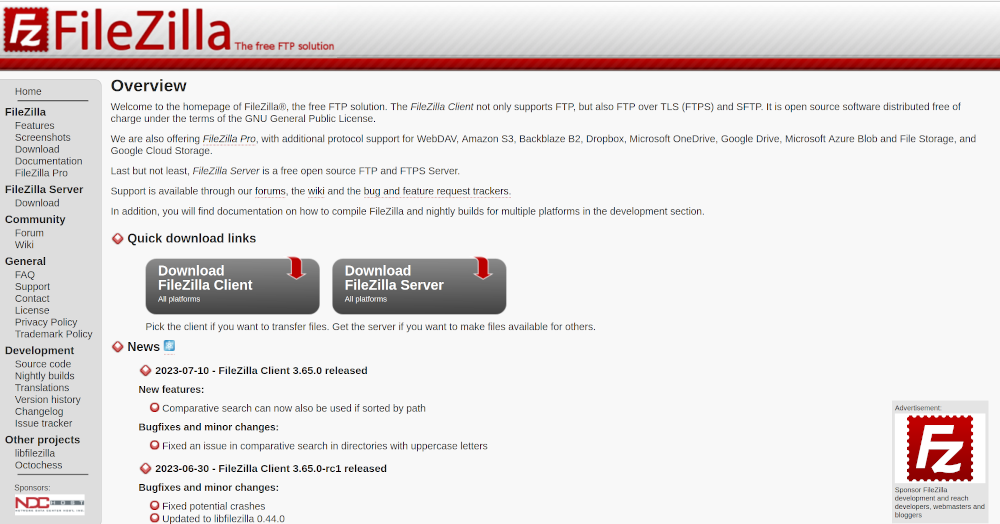 FileZilla is an FTP client that provides a user-friendly interface for easy file management. The main window is where you'll spend most of your time, and it provides access to the site manager and filename filter area. You can search for specific elements in your files and adjust settings by simply switching between tabs on the main menu.
The main window also offers a side-by-side display, with local site files shown on the left and the remote site on the right. By logging in with your host, username, and password, you can add files to a transfer queue and effortlessly drag and drop files between the local and remote sites.
FileZilla keeps you informed with status reports displayed in multiple areas, ensuring you are promptly notified of any errors or mistakes. In case you encounter an issue where FileZilla doesn't display all the files by default, we have a helpful tutorial that can guide you in revealing hidden files.
We would like to inform you about a concerning issue related to downloads from the SourceForge website, which is known for offering FileZilla downloads. There have been numerous reports of these downloads containing harmful malware and viruses. To ensure the safety and reliability of your download, we strongly recommend visiting the official FileZilla website directly.

When it comes to FTP clients, FileZilla remains a trusted and widely used option. Therefore, for the best experience and peace of mind, we encourage you to obtain the software from the FileZilla website.

Thank you for your attention and understanding.
Why FileZilla is an Excellent Choice:
FileZilla stands out as an exceptional option among FTP clients. Firstly, it is completely free and an open source software. It is compatible with a wide range of Operating Systems and offers various versions, making it suitable for different machines.
One of the key strengths of FileZilla is its active and thriving community. This means that updates are frequent and you can engage with fellow users and developers. Additionally, the support documentation is extensive, with dedicated sections for development assistance, FAQs, a support page, and a forum.
The main screen of FileZilla features a side-by-side display, allowing for clear understanding of file movements and transfer status. It supports numerous protocols such as SFTP, FTPS, and FTP, making it versatile in handling file transfers.
With availability in multiple languages, FileZilla is accessible to users around the world. It offers a convenient remote file search function, eliminating the need for manual scanning. Moreover, remote file editing is available, eliminating the need to log into your host account each time.
FileZilla provides the option to bookmark specific locations, ensuring easy access and retrieval of files. Moreover, it allows for the transfer of large files, often supporting sizes greater than 4GB, surpassing some competing FTP clients.
The directory comparison module of FileZilla is enhanced with drag and drop tools, further boosting its usability and effectiveness.
Overall, FileZilla offers a user-friendly experience and a plethora of features that make it a standout choice among FTP clients.
Is FileZilla the Right FTP Client for You?
FileZilla stands out as one of the top FTP clients available in the market. While it may require a little time to familiarize yourself with its interface, it offers wide compatibility with all Operating Systems, including older versions. While Windows users are more likely to utilize it, FileZilla also caters to Mac and Linux users. Moreover, those seeking the convenience of side-by-side drag and drop comparison will find FileZilla particularly appealing.
2. Cyberduck (Windows and Mac)
Even though Cyberduck does not offer Linux support, it is highly recommended among Mac and Windows users for its user-friendly interface and fast file transfers both locally and remotely. You can easily download this FTP client from the Cyberduck website, or alternatively, you have the option to download it from the Microsoft and Mac App Stores.
What makes Cyberduck even more appealing is that it is available as free and open source software. Additionally, if you wish to contribute a donation of more than $10 to support the developers, you can remove the donation prompts and receive a registration key in return.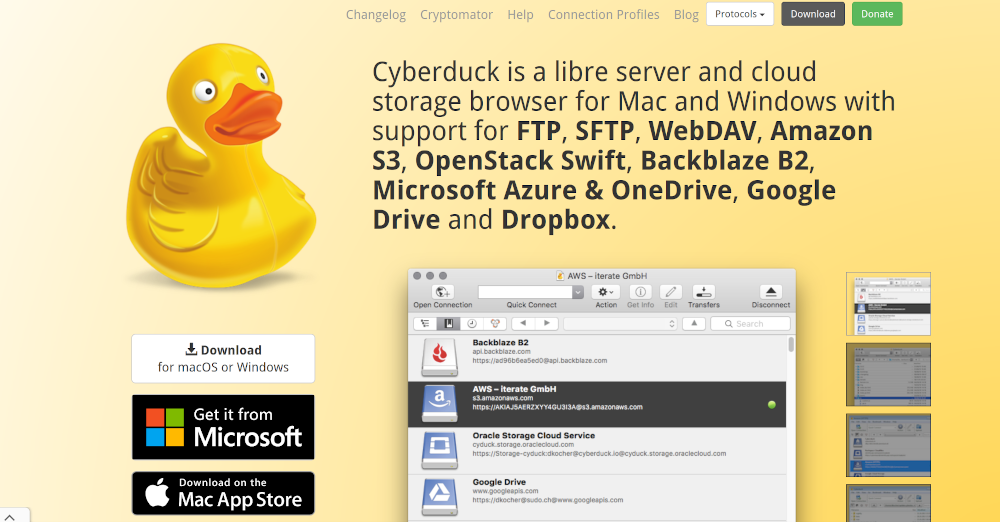 Compared to other FTP clients like FileZilla, the Cyberduck interface is more modern and user-friendly. It allows you to easily connect your website to external storage locations such as Google Drive and Dropbox.
One great feature of Cyberduck is its "cryptomator" which enhances security by adding extra encryption during transfers. Additionally, Cyberduck offers the convenience of connecting to the cloud and provides an easy way to share files using a quick web URL.
Enjoy the benefits of Cyberduck and explore its user-friendly interface and advanced features for your FTP needs.
Cyberduck is an excellent choice for users looking for an FTP client. Here are some reasons why:
Open source: Cyberduck operates as an open source project, which means it is available for use without any fees.
Compatible with Windows and Mac: Whether you use a Windows or Mac machine, you can easily download and install the Cyberduck client.
Multiple protocols: With Cyberduck, you can connect to servers using various protocols such as FTP and SFTP, providing flexibility and convenience.
Third-party cloud storage support: Cyberduck also offers transfer support for popular third-party cloud storage platforms like Microsoft Azure, Google Drive, and Dropbox. This integration allows easy file management across different platforms.
Enhanced security: To ensure the security of your files and transfers, Cyberduck includes the Cryptomator feature. This feature encrypts every file individually, adding an extra layer of protection. Unlike other platforms, there are no backdoors, and no registration or account creation is required.
External file editor: Cyberduck allows you to use an external file editor, enabling you to make changes to your documents seamlessly.
Easy file sharing: Sharing files becomes effortless with Cyberduck's URL generator, making it simple to share files with others.
Bookmarking and logging features: Cyberduck offers a bookmarking tool with history logging, import capabilities, file management, and more, making it easier to navigate and organize your files.
User-friendly browsing: Explore your files with ease using Cyberduck's quick look feature and the general outline provided for large folder structures. Browsing and navigating through your files becomes fast and simple.
Versatile file transfer: Cyberduck supports various file transfer methods. With a drag and drop module, you can easily transfer files. Additionally, you can synchronize, copy, and paste files effortlessly.
Integrations: Cyberduck comes with convenient integrations such as the Keychain password protector, which securely stores your passwords, and the Bonjour auto-discovery platform, which simplifies connecting to servers on your local network.
In conclusion, Cyberduck is a friendly and feature-rich FTP client that provides a range of benefits for users. From its open source nature to its support for multiple protocols and third-party cloud storage platforms, Cyberduck offers a comprehensive solution for all your file transfer needs.
Why Cyberduck Is a Great Option for FTP Clients:
If you are using Linux, unfortunately, you cannot use Cyberduck as your FTP client. However, Windows and Mac users will definitely appreciate the modern and clean interface that Cyberduck offers.
Moreover, Cyberduck is especially great for those users who want to sync with alternative cloud services like Google Drive or Dropbox. If your main interest lies in linking to cloud storage, then Cyberduck is the perfect FTP client for you. It is actually my personal preference too.
3. WinSCP (Windows)
WinSCP, a free file manager and FTP client, is designed specifically for Windows computers. This open source project has gained immense popularity, with over 124 million downloads. Similar to FileZilla, its user interface features a dual-pane module for efficient file transfers. Additionally, WinSCP allows customization of the main page with multiple tabs, various commands, and sessions. With the ability to have multiple sessions on the same screen, you can complete more work simultaneously.
WinSCP offers a wide range of features that are both abundant and user-friendly. The WinSCP website provides access to various resources where you can find detailed documentation, a helpful user forum, and various options for customer support. If you are in search of reliable FTP clients, WinSCP is definitely worth considering.
Why WinSCP is an Excellent Choice for FTP Clients:
WinSCP stands out as a top-notch FTP client.
One significant advantage is that it is free, making it a budget-friendly option.
Moreover, compared to its competitors, the documentation and support tools provided by WinSCP are superior. This ensures that users have access to comprehensive resources to troubleshoot and enhance their experience.
Another enticing feature of WinSCP is its versatility in file transfers.
The client supports various protocols, including WebDAV, S3, SFTP, SCP, FTPS, and FTP. This wide range of options makes it easier to connect and transfer files across different platforms and servers.
WinSCP's graphical user interface (GUI) is user-friendly and visually appealing. This intuitive interface makes it easier for users to navigate and understand the functionality of the client.
One unique aspect of WinSCP is its flexibility to integrate with any text editor of your choice. This allows users to work with their preferred tools and enhances productivity.
Automation is made seamless with WinSCP. Users can create rules to automate tasks and scripts, saving time and effort in repetitive operations.
Language is not a barrier with WinSCP. The client offers support for multiple languages, ensuring that users from various countries can benefit from its features.
Security is a top priority for WinSCP. All files transmitted through WinSCP are encrypted, providing a secure environment for file transfers.
Administrative restrictions give users control over who has access to specific files or functions. This feature is particularly useful for companies that want to limit access to confidential data.
Customization is a key feature of WinSCP. Users can adjust the user interface to meet their specific preferences and requirements, enhancing their experience.
Lastly, WinSCP ensures continuous connectivity with your current workspaces. In the event of any data loss or interruption, WinSCP restores your entire workspace, minimizing any productivity setbacks.
In summary, WinSCP surpasses its competitors as a robust and user-friendly FTP client. With its wide range of features, secure file transfers, and customizable interface, it proves to be an excellent choice for individuals and businesses alike.
4. Core FTP LE (Windows)
Core FTP LE used to be a paid software, but now you can choose between the Pro version and the LE version. In our opinion, Core FTP LE should work well for most users as it has a basic interface, dual-panel layout, and resembles FileZilla. The main difference is that Core FTP LE is focused solely on Windows software, so it offers a more focused experience in that regard.
With Core FTP LE, you can easily manage your files through transfers, dragging and dropping, and a status section that shows the progress of your files from local to remote sites. Most of your tasks can be performed within the same window, allowing you to easily search through a long hierarchy of files and bookmark the ones that are important to you.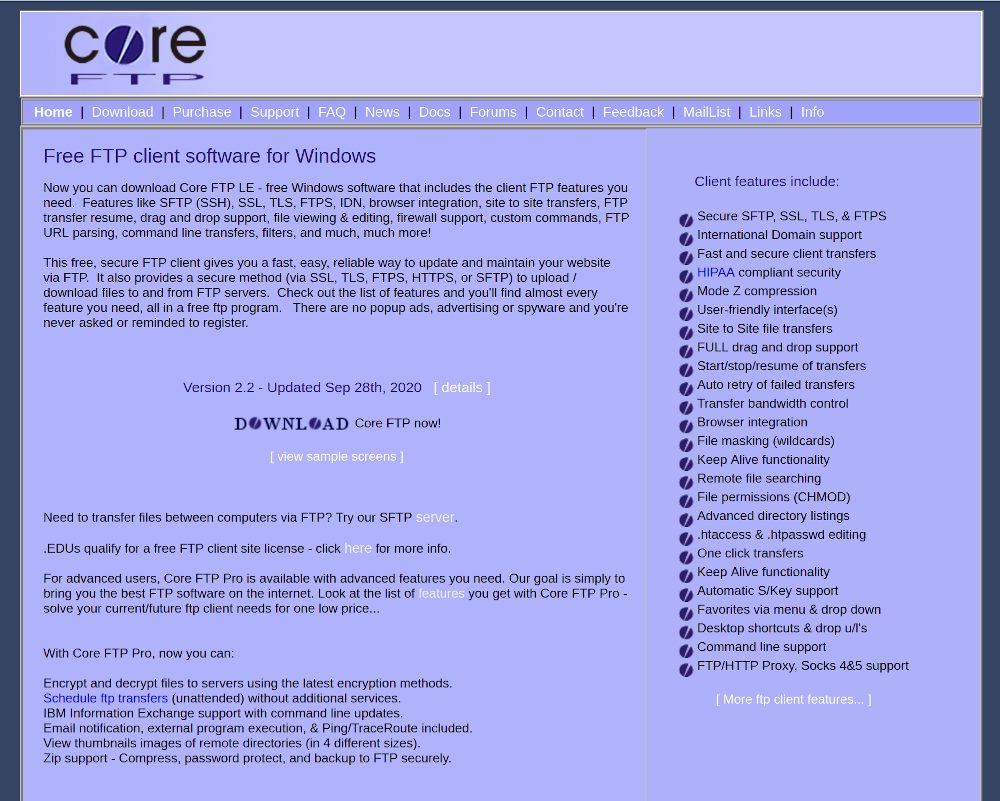 As mentioned earlier, the essential features of Core FTP LE are completely free. However, if you wish to unlock more advanced features, you have the option to upgrade to the Pro version for just $24.95.
Additionally, the Core FTP website offers numerous support resources for your convenience. You can conduct your own research or interact with other members of the community. For instance, you can contact the developer via email or post your questions in the forums to seek input from other users. The website also includes helpful tabs such as FAQs, a feature list, and documentation to aid you further in using Core FTP LE.
In summary, if you are looking for a reliable FTP client, Core FTP LE is an excellent choice with its free features and additional support options available on their website.
Core FTP LE is a great option for those in need of an FTP client. It offers a range of unique features that set it apart from others, such as FileZilla. The best part is that the main client is completely free and available for download.
If you require some advanced tools like file syncing, encryption, and custom screen setups, there is also a Pro version available. However, the free version already provides support for secure protocols such as FTPS, TLS, SSL, and SFTP.
One of the standout features of Core FTP LE is its mode Z compression, which not only improves transfer rates but also speeds up your overall work process. The convenience of dragging and dropping files to different folders is also offered.
In the event of a transfer failure, Core FTP LE automatically retries all transfers, saving you time and frustration. File masking and file permissions can also be managed at the admin level.
Customizability is another advantage of Core FTP LE, as you have the ability to create your own desktop shortcuts for quick access.
Lastly, Core FTP LE allows for the simultaneous transfer of multiple files to multiple sites, making it an efficient choice for those who handle multiple tasks at once.
In conclusion, when it comes to FTP clients, Core FTP LE stands out with its unique features, user-friendly interface, and the option to customize your experience.
Is Core FTP LE the Right FTP Client for You?
Core FTP LE can only be used with Windows machines. However, if you are looking for an alternative to FileZilla, we believe that Core FTP LE is worth trying out. Perhaps you are not fond of some of the shortcuts or the overall interface of FileZilla. If that is the case, give Core FTP LE a shot to see if it offers a better experience for you. With fast and secure transfers, it might just be the solution you need to find a balance between the two FTP clients.
5. CuteFTP (Windows)
CuteFTP, developed by Globalscape, is a popular FTP client exclusively designed for Windows users. It requires an annual payment of $59.99, but once a new version is released, users can upgrade for a fee of $29.99. For added convenience, CuteFTP offers one year of maintenance and support at an extra cost of $30.
The main objective of CuteFTP is to provide users with a user-friendly interface, extensive automation features, and top-notch security measures. When it comes to security, CuteFTP incorporates various safeguards such as password authentication, robust encryption, and a convenient password manager.
With CuteFTP, managing FTP connections becomes a breeze, ensuring a seamless and secure file transfer experience.
One fantastic thing about using a premium FTP file manager like CuteFTP is that it comes with an abundance of digital resources and, more importantly, dedicated customer support from real people. With Globalscape, you have access to a comprehensive support knowledgebase, an online help file, and a user guide.
Whenever you encounter any issues or need assistance, you can easily reach out to the customer support team either through phone or a chatbox. In those moments when a problematic FTP transfer could cause major headaches for your organization, it's truly comforting to have a friendly conversation with a real person. This is when investing in a reliable FTP client and being willing to pay a small fee really pays off.
Why CuteFTP is an Excellent Choice for FTP Clients:
CuteFTP is a fantastic option for FTP clients for several reasons. Firstly, the company provides a visually appealing FTP client and offers thorough phone and email support, all at a very affordable price.
Additionally, CuteFTP allows you to securely backup and synchronize your site files directly from the main window. It also includes a convenient password manager, enabling you to log all your passwords for easy access.
Furthermore, CuteFTP supports various transfer protocols such as FTP/S, HTTP/S, and SFTP, ensuring secure and reliable transfers. It even incorporates a password authentication protocol to provide an extra layer of system security.
CuteFTP gives you the flexibility to complete transfers manually or set them up to run automatically on a predetermined schedule. Moreover, it constantly monitors all transfers, notifying you if anything appears unusual.
Furthermore, CuteFTP offers the unique advantage of managing audio files and creating podcast RSS feeds. Whether you're interested in starting a podcast using WordPress or organizing your audio files, CuteFTP has got you covered.
The intuitive drag and drop interface allows for effortless movement of files between different folders and servers. Additionally, CuteFTP offers the convenience of creating scripts, providing time-saving options for future tasks.
Finally, CuteFTP allows you to easily connect to all your sites with the help of an intuitive step-by-step wizard embedded within the software.
Overall, CuteFTP stands out as an exceptional choice for FTP clients, offering a wide range of features and support, all presented in a user-friendly manner.
Is CuteFTP the Right FTP Client for You?
If you are a Windows user and in need of an FTP client, then CuteFTP might just be the perfect fit for you. Unlike other open-source projects like FileZilla, CuteFTP is a premium Windows FTP client that offers exceptional customer support and some unique features. With CuteFTP, you gain access to superior automation, enhanced security, and unparalleled customer assistance specifically tailored for Windows machines.
So, if you're looking for a friendly and reliable FTP client that goes beyond the ordinary, CuteFTP should definitely be on your radar.
Bonus FTP Client for Linux
– gFTP (Linux)
gFTP is a free multithreaded file transfer client for *NIX based machines. 56 language translations available. You can download it from the Software Management app in your Linux distribution – Ubunto, Mint, Debian. The FTP client is also available in two versions:
Version fo X, written using GLib and GTK+
Version for the console, using GLib
We hope that our recommendations will help you narrow down your list of FTP clients and make a selection. Here are some more as a list, but the review of the 5 given above is what we really recommend you. If you need further assistance, here are some final suggestions:
FileZilla: Consider this FTP client if you want a free solution that works on all Operating Systems. We believe it is the best all-around option.
Cyberduck: This one is great for Windows and Mac users who want to sync with storage services like Google Drive and Dropbox.
ForkLift: Mac users who need remote connections like SMB and Google Drive will find this FTP client useful.
Transmit: Mac users looking for fast upload speeds will appreciate this option.
WinSCP: If you have a Windows machine and prefer a straightforward FTP client, consider WinSCP.
WS_FTP® Professional: This FTP client is exclusively for Windows users who prioritize maximum security.
Commander One PRO: Mac users needing multiple connections should consider this client.
Core FTP LE: Recommended for Windows machines as an alternative to FileZilla. Try both to see which one you prefer.
CuteFTP: If excellent customer support is important to you, CuteFTP is worth trying. Please note that it is a paid option and requires a Windows machine.
Free FTP: We like Free FTP for Windows users looking for simplicity and potential support for TSL and HTTPS.
Keep in mind the importance of FTP clients and specifically explore CuteFTP for its exceptional customer support.
That's everything we've mentioned about the top FTP clients! If you have any more questions or want to share your favorite clients, feel free to leave a comment below. We'd love to hear from you!