Why NVMe takes an important role in data centers?
When we talk about data-heavy enterprise environment, we should know that during the time most organizations continue investing time and resources to improve storage protocols and digital transformation. Today SATA (supports SSD and spinning-disk hard drives) is now longer the leading dominant protocol, there is new technology taking place. You may read about it, is well-known fact that NVMe is a new storage protocol empowers data centers building the enterprise environments in order to take full advantage of high-performance flash memory. While the SATA protocol is available in both HDDs and SSDs, but when we talk about NVMe, we should know that is particularly designed for SSDs. Also, SATA interface was built for hard drives, having has many inefficiencies when paired with flash-memory-based SSDs. And that's why the result is impressive regarding the performance between SATA and NVMe. Now you see why NVMe is so important to enterprise environments.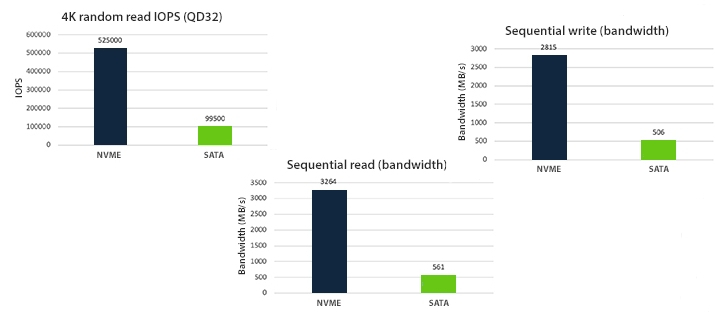 The graphics show the differences in SATA and NVMe regarding IOPS and Bandwidth
SATA III has the ability to reach speed of up to 600MB/s, but it can not keep this performance consistently. SATA-based SSDs are proficient for some data centеr workloads since there are many legacy servers in the field that only support SATA/SAS SSDs. Also they will eventually be limited and capped in their performance.
NVMe has the ability to enable multicore processing when is necessary for organisations to compete in efficiently accessing, processing and managing data in enterprise environments when I/O operations are enabled at the same time. This Quality of Service (QoS) provides an exceptional balance of consistent I/O delivery with high read and write IOPS performance to manage a wide range of workloads.
Why we choose NVMe over SATA?
The main and most wanted benefit when we are talking about storage is speed. And here NVMe has it as well as multiple simultaneous streams of data which take full advantage of GPU utilisation and of course CPU. NVMe has multiple form factors – U.2, M.2 and EDSFF connections helping being universe for many storage platforms from servers for all-flash arrays.
The data can be streamlined and divided, meaning that the data is written at the same time. Also, it is not known fact that the bandwidth is enabled up to six times with NVMe, which is a triple latency improvement, as well as 4K efficiency and multicore support. And this is not all, NVMe also has the ability to several commands for communicating with NVMe SSDs. In other words these features makes the interfaces faster and the routines optimised in order to write data to the SSD.
In order to stay competitive, organizations and large businesses in their enterprise environments smartly invest in creating, managing, manipulating, analyzing and storing data (most of the cases sensitive). The oldest protocols have limitations and bottlenecks, but now the new NVMe and PCIe protocols relies on improved  efficient storage, management and fast data accessing without harming the performance.
Another important benefit of enterprise NVMe SSD is the QoS enhancements incorporation into the hardware and firmware design. Meaning that NVMe SSD can deliver extremely good QoS ensures predictable I/O and latency delivery that an application can depend on to deliver desired performance for developers all the way downstream to the end-user interface. It is no secret to most admins that NVMe is recognizable as a leading cutting edge of storage technology as well as gives the opportunity to enterprises to operate and store their data in a much better way.
NVMe performance in enterprise environment
The performance boost of NVMe helps latency-sensitive workloads and much more such as real-time big data analytics or database environments with heavy workloads of your servers. This is something common when you are switching to this storage technology.