Our efforts to be ahead of the competition and to always deliver to our customers the latest hardware and technology in the hosting world has been confirmed today by one of the best web hosting reviews companies in the UK – top5hosting.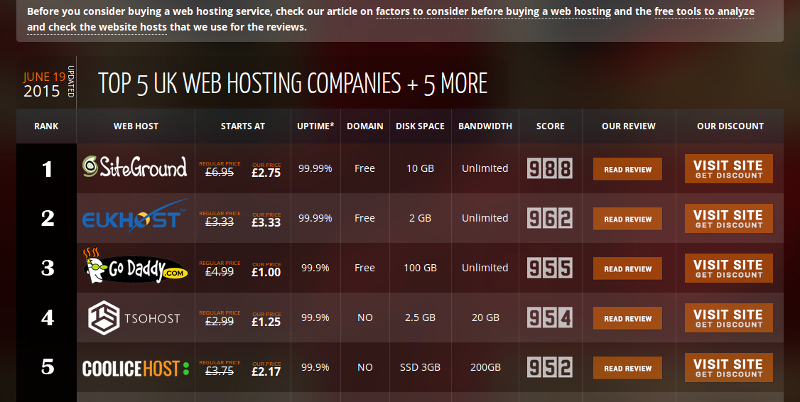 Unlike other hosting reviews companies that sole purpose is to sell affiliate links, the guys at top5hosting actually test, benchmark and review the customer support, technology, performance, security, price and other vital parameters of the web hosting providers. With our outstanding ping of only 4ms to London, support for the latest technologies like LiteSpeed and PHP7, state of the art servers and 99,98% uptime we at CooliceHost are proud to announce that we have been listed among the top 10 of the UK web hosting providers. You can read the whole CooliceHost review here with more technical data and test results.

The CEO of top5hosting says "We believe that CooliceHost.com is one of the best Nginx web hosting companies in the last few years. The company provides great products and services for everyone who needs professional solutions for their business. All CooliceHost plans are at very compatible price and the company has managed to provide a wide range of advanced features while maintaining an intuitive ease of use that helps diminish the inherent complexity and learning curve associated with the web hosting service.
We understand how important fast loading and secure web hosting is for every online business. All-sized enterprises can find the right hosting solution from these companies, which have outperformed their competitors on hosting features, uptime, server speed and customer support. Thats why we write our reviews, to help everyone to choose the best performing hosting provider at the best rate and CooliceHost is now one of the companies that deserve to be there."
Nginx Web Hosting services are now popular in the current market. There has been a boom in websites in recent years, and the new demand has resulted in an increase in the number of web hosting companies that offer a variety of different services, security and advanced technologies at very affordable prices.