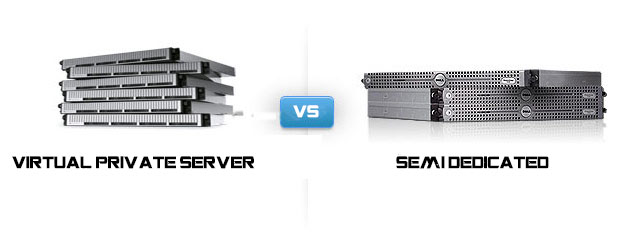 Many clients are really confused when it comes to finding the differences between the Semi-Dedicated hosting and the VPS hosting. There are no such things as "the right choice", it is all about what are the clients' needs and which options suits them best.
What exactly is Semi-Dedicated hosting?
Shared hosting and Semi-dedicated hosting are very similar one to the other, but the semi-dedicated hosting is much more suitable for corporations, medium and large enterprises. Only several accounts are on the server in the semi-dedicated hosting. In this way a better performance and higher server resources can be provided to the client.
What is VPS?
The web hosting market is a quickly and constantly developing one, presenting news frequently. The Virtual Private Server (VPS) is one of the latest and very important achievements. One physical server can be divided in numerous VPSs and each private one offers the possibility to be customized upon the client's needs and preferences. This option makes one VPS always different from another. What's more, the client can interact with the server. You should consider that choosing a VPS requires enough technical knowledge to install, set up and maintain the server operating and secured. The VPS is suitable for SMEs. Nevertheless, you should consider that due to its high performance the expenses for the VPS are a bit higher.
Semi-Dedicated vs VPS
Whether you choose Semi-Dedicated or VPS it all depends on what you need as a hosting service. Each hosting company that offers these services does it with its own brands (CooliceHost brands it VPS Hybrid), so don't look at the name but at the characteristics. Semi-Dedicated hosting requires less technical knowledge than the VPS and managing the website is easier.
What's more, usually you can also count on client support services. The Semi-Dedicated hosting is a great performer as there are only a couple of websites under the server. It is suitable for websites with random traffic peaks. The VPS, on the other hand, has some big advantages – a cheaper full access to the server, a possibility for complete customization and a higher level of security as each VPS operates in isolation from others. However, as we already said, you should have some technical knowledge to work with this server type.
A brief comparison
Semi-Dedicated is very similar to shared hosting, but only a few clients are being hosted. It is suitable for websites that require more resources than the shared hosting. It is a good start before your needs require an upgrade to VPS or a Dedicated Server.
The VPS could be your next step. It has guaranteed resources as it is a part of a larger server, but still isolated from other clients' VPSs.
Hybrid plan can be dedicated servers or a higher-end VPS. As we already mentioned, each company offers these services under different brands, so you should carefully check the characteristics of each plan you could be interested in or ask the company's team to consult you on what will suit you best.
There is no definitive answer to what the best hosting plan is. It all depends on what you will use is for and what your target is.
Now, let's take a look at how each hosting is being managed.
Managing the Semi-Dedicated hosting is similar to managing a shared one, but with less limitations, greater performance and higher resources, as few accounts are hosted on the server. No technical knowledge is required and the hosting providers offer support services, but normally you have no root access to the server and no customization options. Usually all you have is a cPanel access.
Managing a VPS offers large customization possibilities, as the client has full access and control over his account. The VPS is a greater performer than the Semi-Dedicated and with larger resources. That's why it usually comes at a higher price. What's more, as you have full access, you have to know how to setup and operate your server. If you need any licenses for your customization (DirectAdmin, cPanel, etc.) you should foresee higher expenditures.
This is only a general comparison and there are differences between the offers of the hosting providers. Before choosing what's best for your projects, you should make your research and contact the companies for further information. Some companies go one step ahead, as they offer you the possibility to use a plan customized especially for you, if you can't find what you are exactly looking for.