Are you searching for a good and reliable caching plugin for your WordPress website in order to improve your performance?
That's great news, because caching plugins create a static version of your website and can increase the speed of your WordPress website dramatically. Even more, they will have you money on your server / hosting resources, or in other words you will pay reasonable price, without the need to upgrade your plan / server resources.
With the correct caching WordPress plugin you can speed up your website and increase your traffic and performance.
Topics that we will discuss in this article:
What are WordPress Caching Plugins and What Their Do?
WordPress caching plugins serve as a ultimate platform to speed up websites by adding a layer of optimization then it comes to loading and serving content. What a Caching Plugin Does: By removing the lengthy process a browser goes through to build dynamic pages, a cache plugin speeds up access to your website's content for repeat users and prevents the origin server from becoming overloaded.
In their simplest form, they are built to reduce the number of times a website needs to load resources from a server you are on, which improves its response time and brings better client experience at the same moment. Now with the boom of the mobile devices and data transfer connections this is really important. And not only – Google also tolerates fast loading websites, meaning that speed is one of the main elements of your SEO of your website.
WordPress plugins also have the ability to cache frequently accessed elements, such as images, CSS styles, and JS files, so that once visitors have seen them they don't need to be loaded again, everything is served within a seconds – not for the first time. Great, isn't it?
This can be an especially helpful tool for websites with high traffic volumes or heavy themes.
If you're managing a WordPress website, or plan to soon to do it, then you'll know that one of the most important aspects is making sure that your website loads quickly. Keep in mind also that your cache plugin must be compatible with your theme and other plugins in order to your website to run correctly without any problems and interruptions.
Best Caching Plugins for WordPress Website
A WordPress caching plugin can make a world of difference in your website's loading time and performance. There are various types of caching plugins out there on the market and all of them work slightly differently from each other. The developers know that every website, hosting (server) have their own requirements and they stick to them during the creation process, and that's why you will have the chance to take a deeper look in any of them and pick up the best that meets your criteria.
Picking the best caching plugin for your WordPress website, can ensure that your website will be stable and can handle thousands of incoming visitors and within the time get better SERP results. Every SEO expert will start from there – the speed and serving time.
1. WP Rocket
WP Rocket is a premium cache plugin for WordPress developed websites. It is considered the top software component as it is a very powerful tool, which is able to handle more than 1500 requests per second, which is really amazing. Without such tool, you will probably need a lot of server resources to get this result.
This plugin also offers a wide range of optimization features and is entirely user-friendly for beginners, computing experts, and everyone in between. No need to be programmer or tech geek to configure it, and that's make it one of the best our there.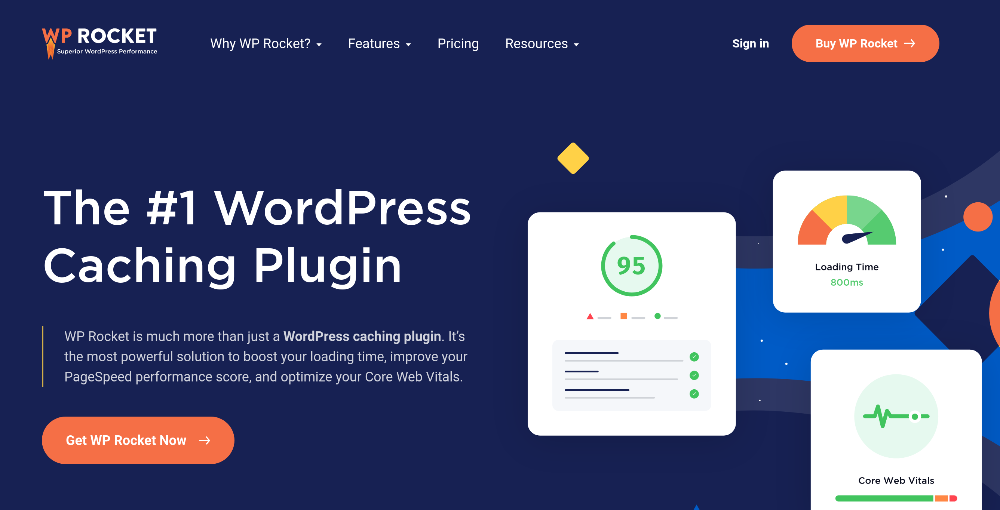 It's highly recommended to start with this plugin because of its easy installation that includes preset settings that will be applied to your website upon immediate activation. Its settings are adjustable and the plugin will overall guarantee quick loading and high SEO ranking after that.
WP Rocket also comes up with an image CDN and the advanced WebP image transformation. If you are into using WP Rocket, you'll not need any image optimizing plugins as a additional options, because this plugin has everything you need in one place. You only need to start using it. If you need help setting things up, we recommend you to check their documentation and see how things are happening.
2. Litespeed Cache (LSCache)
LSCache is a highly customizable, high-performance page cache for dynamic content built into the LiteSpeed webserver. It is an all-in-one site acceleration plugin that features exclusive server-level cache and a collection of other optimization features like Redis, Minifing and so on.
By far LSCache is the fastest caching plugin for WordPress ever know by now, which can handle more than 2000 requests per second and can configured both for static or dynamic WordPress websites.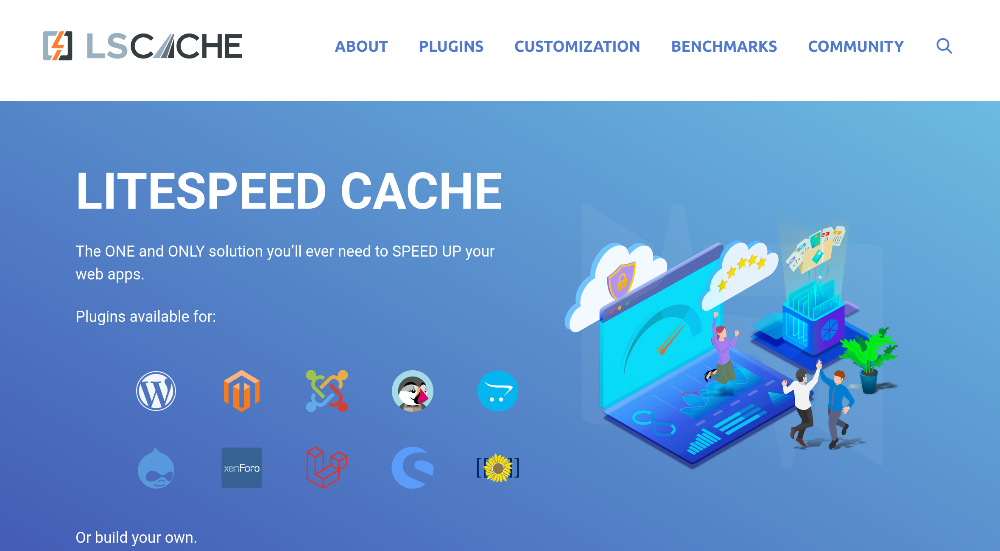 This plugin is really easy to set up and has all kinds of tabs for each optimization feature available. Your job is only to setup it correctly.
LSCache comes with the Quic Cloud CDN, which can be used to host your image files and scripts (CSS and JS), so when a visitor comes to your site, Quic will directly load the stored files to them from their side.
One of the greatest things about LSCache is that it has the WebP conversion option, which lets you automatically convert all of your images, compress them and display them on your website without losing any image quality. LSCache is so fast that it is recommended for websites, which are made on WordPress, Joomla, Magento, Opencart, PrestaShop and even more.
Although it can be hard to set at first and receive the best results with your website, the plugin has documentations and learning curves.
We also do have a helpful knowledgebase article on How to optimize your WordPress website with LSCache, so you can directly start configuring and see how fast your site can load with our Cloud Litespees plans.
3. W3 Total Cache
W3 Total Cache is one of the most popular WordPress cache plugin designed to accelerate any WordPress website's load times by up to 10 times full installation and configuration while also enhancing overall the UX. The one thing about W3 Total Cache that professionals like is that it has a dashboard with all kinds of features and it's really easy to work with the settings panel. From simple minifying and combining files, to mobile caching and choices on how to load scripts, this plugin will give you the chance to find significant differents within few minutes.
W3TC uses caches and CDN integration to improve all performance levels of the hosting server. It is more advanced and requires additional computing knowledge and skill to navigate the list of settings provided in it.
It may not be a beginner friendly plugin, because of the lot of the options and functions, but there are hundreds of tutorials out there, which can help you setup everything. We will also get one soon as this plugin is preferred by many of our clients. When configured properly it can guarantee no interference with WordPress themes or any other existing plugins.
4. WP Super Cache
WP Super Cache WordPress plugin is one of the most popular and best WordPress plugins for many reasons. It was created by the company Automattic which is also responsible for WordPress.com, WooCommerce, Gravatar, and many more projects. In other words, the team our there knows what it does.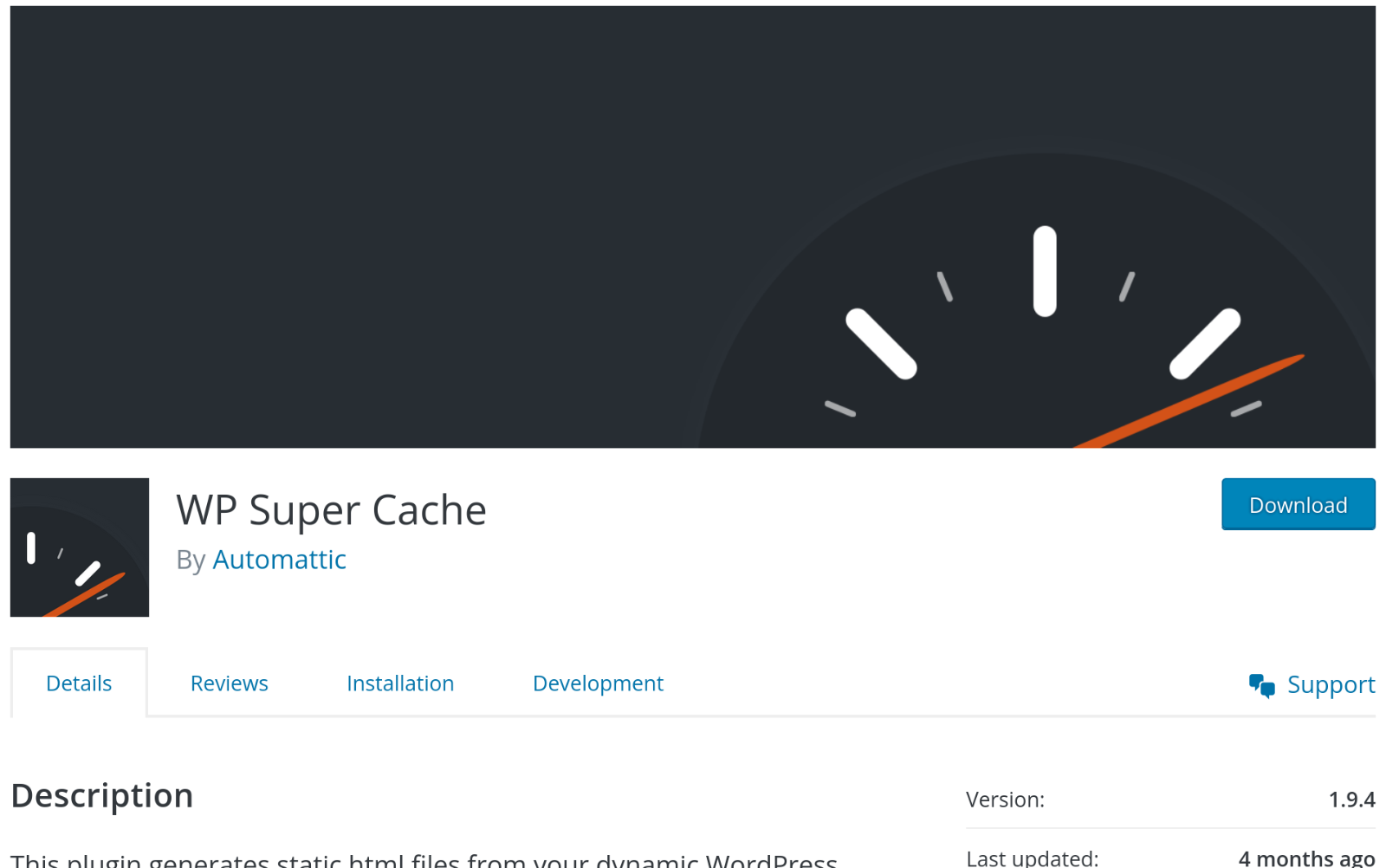 It is free and easy to use through a feature they call "simple mode" and provides everything you will need for a decent caching plugin. Thanks to its the wiki or the Developer documentation you can easily setup it and start using it right away.
With over 2 million active installations, the plugin operates by creating copies of each of your website pages in the form of a static HTML file resulting in faster loading times and smoother website navigation. Really helpful then it comes to serve your dynamic pages to thousand of visitors at the same time.
5. Comet Cache
Comet Cache is a WordPress plugin developed by WP Sharks and is made for use with WordPress websites through a specific hosting specifications (enabled GZIP, PHP 5.4+, Apache 2.1+ or Nginx). They provide multiple optimization techniques that can be accessed on a dashboard connected to your WordPress admin panel and config file of your installation. The plugin has a Pro version, with mush more features that can help you even more with your website performance.
Besides providing optimal caching features, it also upholds the ability to compress images, combine files, minimize your HTML, CSS, JS, and more. Comet Cache is the perfect plugin for beginners, who have small websites and wish to optimize them to a new extent.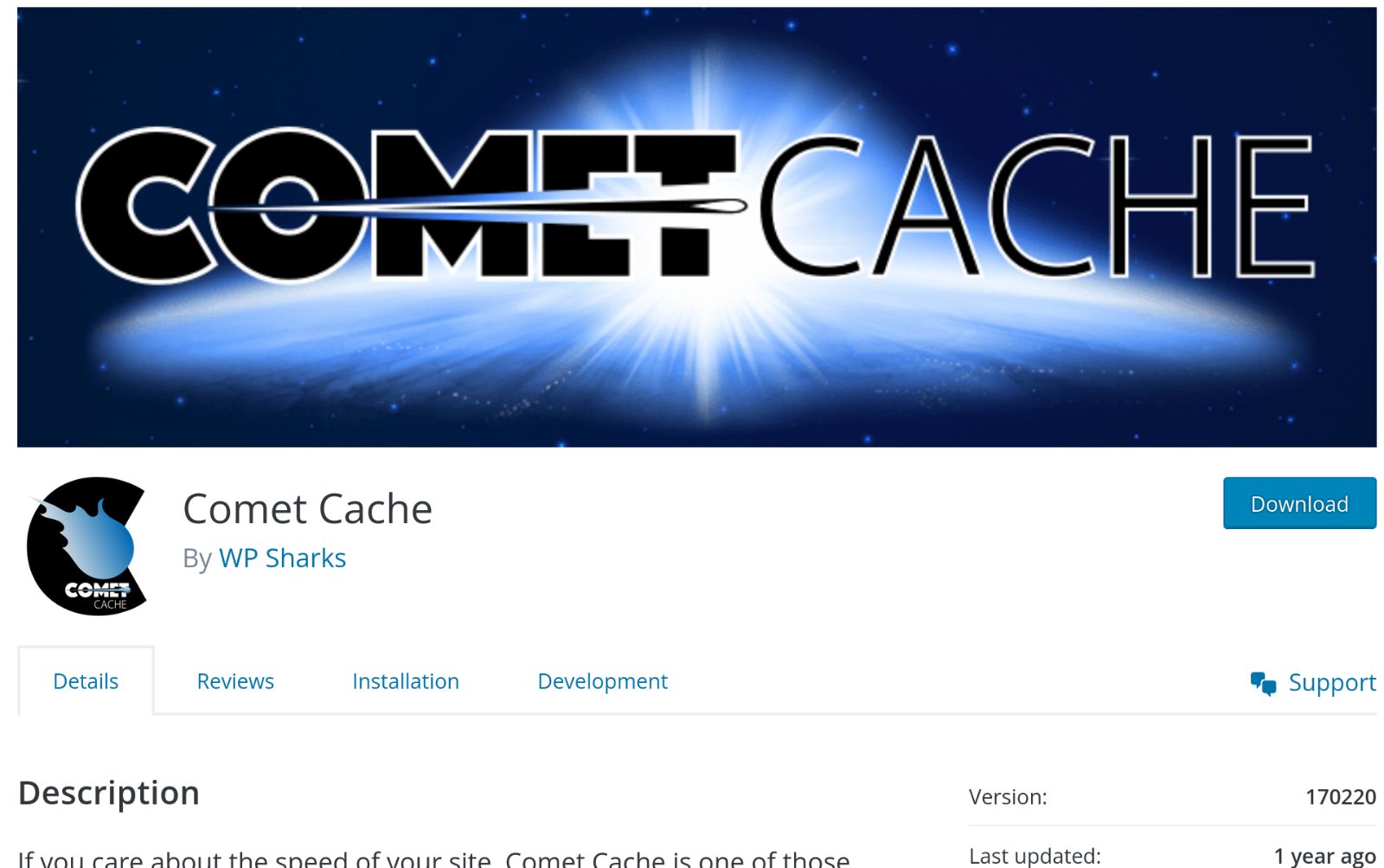 Although Comet Cache is a great caching plugin for WordPress, there are many alternatives, which are more affordable.
6. WP Fastest Cache
WP Fastest Cache is the simplest caching plugin for WordPress ever known by now. It has a beginner friendly setup and can improve the speed of your website in no time just with few easy to be done setups. It comes in both free and premium version, but starting of with the free WP Fastest Cache version will guarantee you that you will have incredible results and more time to work on your website to increase the speed and performance.
This plugin setup is easy to set up and requires no technical knowledge at all, by including all the important features, which you will need in order to boost your website.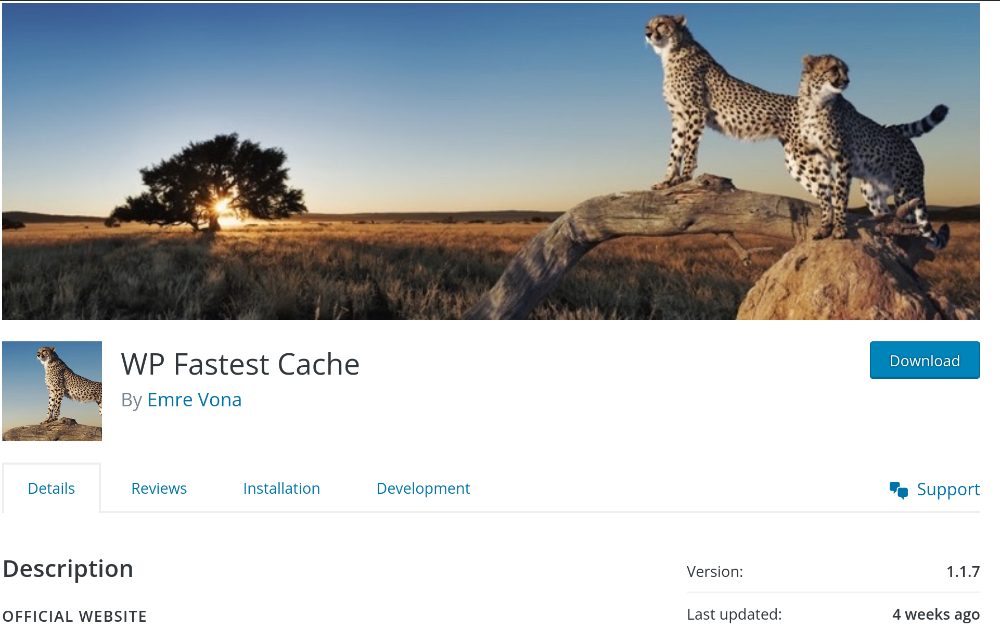 The premium version of WP Fastest Cache consists of features and services, such as mobile cache, widget cache, minify HTML plus, and much more. It also provides its premium users with hundreds of data centers for file, image, and script storing and delivering.
Conclusion
Using WordPress caching plugins can help your visitors have a better experience (UX) while browsing through your website. These caching plugins help websites to serve static contents and increase the speed of a website.
If you have a dynamic websites (and you are having them with the WordPress CMS), serving requests can be a really hard job, when you have hundreds of visitors coming at the same time. That's why caching plugins help by delivering contents fast and preventing your server from slowing down, due to the too many requests at a time.